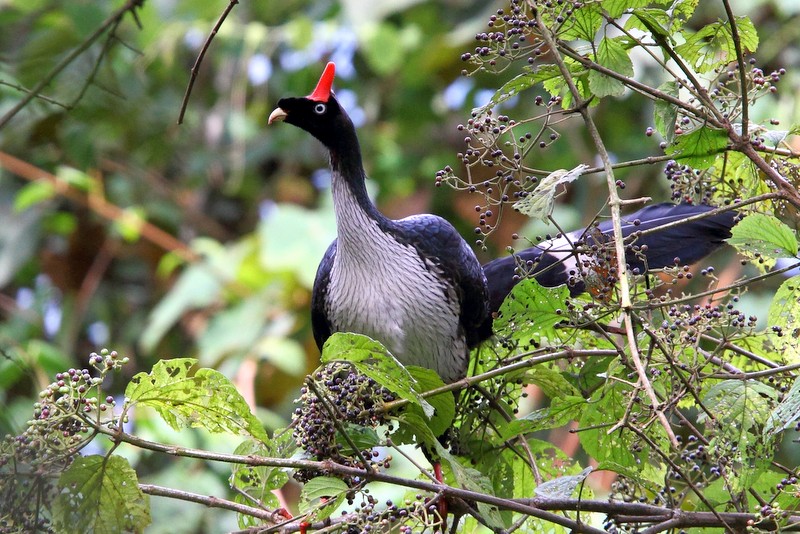 Top Bird of the Year – 2012
Every year our tour leaders are fortunate to enjoy thousands of birds in over 70 countries across the globe, and we thought we'd take the opportunity to share their top bird highlights for 2012 with you, as recorded in their own words….
Adam Riley
2012 has certainly been a bumper year for me, with an estimated year list of around 3,000 species after extensive travels to South Africa, Ethiopia, South Korea, Indonesia, the Russian Far East, United Kingdom, Peru, Guatemala and Panama. It was tough to choose a single bird of the year but I finally awarded the prize to the unique Horned Guan. This totally crazy bird is the crème de la crème of the cracid family, and besides being endangered (population estimated at under 2,500), its habitat choice of cloudforests on the steep slopes of a few volcanoes and mountains in southern Mexico and south-western Guatemala makes it a tough bird to seek. I was therefore thrilled to find this co-operative bird gorging on berries during a scouting trip up the San Pedro volcano last month and even more delighted when we located a pair at the same location a week later during Rockjumper's Guatemala tour. Definitely one of the highlights of my birding career!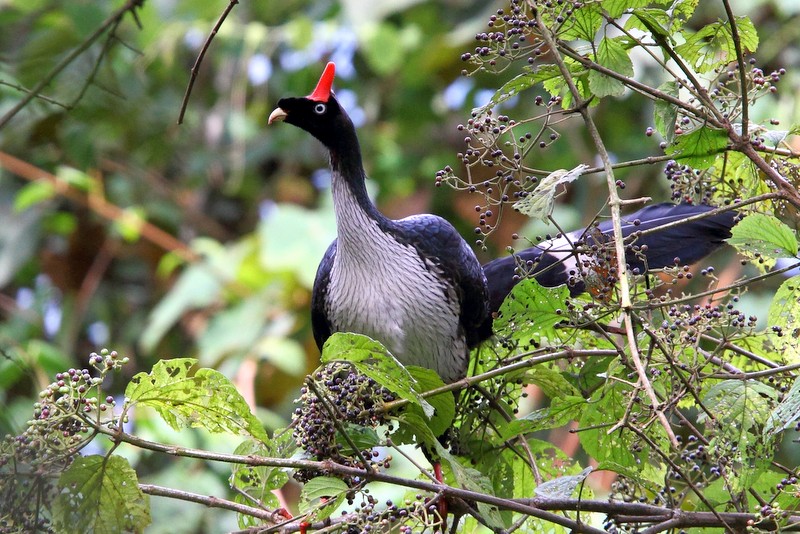 Cuan Rush
All birders have a species that eludes their grasp despite concentrated efforts to locate it. These birds are affectionately known as "bogey birds"! For me, it is (or was…) the very attractive Oriole Finch, a species with a fairly wide distribution in Africa and found in evergreen montane forests. Over the past 6 seasons, I have toured extensively throughout East Africa, in particular, Kenya and Tanzania, where this species readily occurs. However, despite much searching in the most appropriate areas, the bird continued to thwart my attempts at finding it. This was until May when I finally had success! I was leading a 3½ week private East Africa tour and our journey together was fast approaching its completion; in fact, it was the last morning of birding on the trip before we headed to Nairobi for departure. Anyway, we were scouring the forests on the slopes of the beautiful Mount Kenya when I stopped to scan a large fruiting tree. To my complete surprise, my bins fell upon a gaudy yellow bird with a black head and pinkish bill, none other than my nemesis, Oriole Finch! A loud, rapturous shout filled the air immediately thereafter and I could not contain my excitement. Unfortunately, almost simultaneously, a Blue Monkey that was feeding nearby disturbed the bird and it flew off before the group had laid eyes on it. This simply would not do, so we continued our search in the same tree and after about 15 minutes were rewarded with good scope views of 3 males and 2 female birds. It is fairly rare for a leader to get lifers on a trip, especially after visiting the same region for many years, but this was a most welcome surprise and a fitting end to a great tour!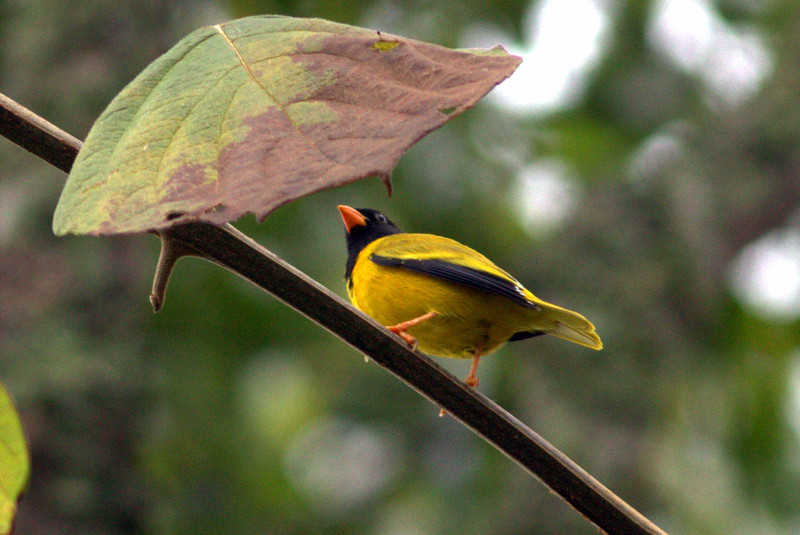 Keith Valentine
Owls, Nightjars and Frogmouths are often rare and difficult to locate, plus they all require a lot of patience and perseverance to see well; needless to say they always seem to feature very high on the list of birds I most want to see. Earlier this year our group was fortunate to get amazing views of a Gould's Frogmouth in the incredible Khao Nor Chu Chi reserve in the south of Thailand. We were patiently waiting in a well-forested zone for dusk to settle in when a Gould's Frogmouth began to call and, within a few minutes of careful searching, we found this gem perched quietly in the undergrowth only a few meters off the ground. There were many other superb birds this year, however, for me, it was this species that took the prize of number one!
Erik Forsyth
With so many fantastic tours to various incredible destinations in 2012, it was certainly not easy to come up with a single bird as my top bird of the year. However, if I have to choose just one species out of the many avian highlights over the past 12 months, the stunning and multi-colored Himalayan Monal, which was seen well in Bhutan, would have to rank as my top bird for 2012!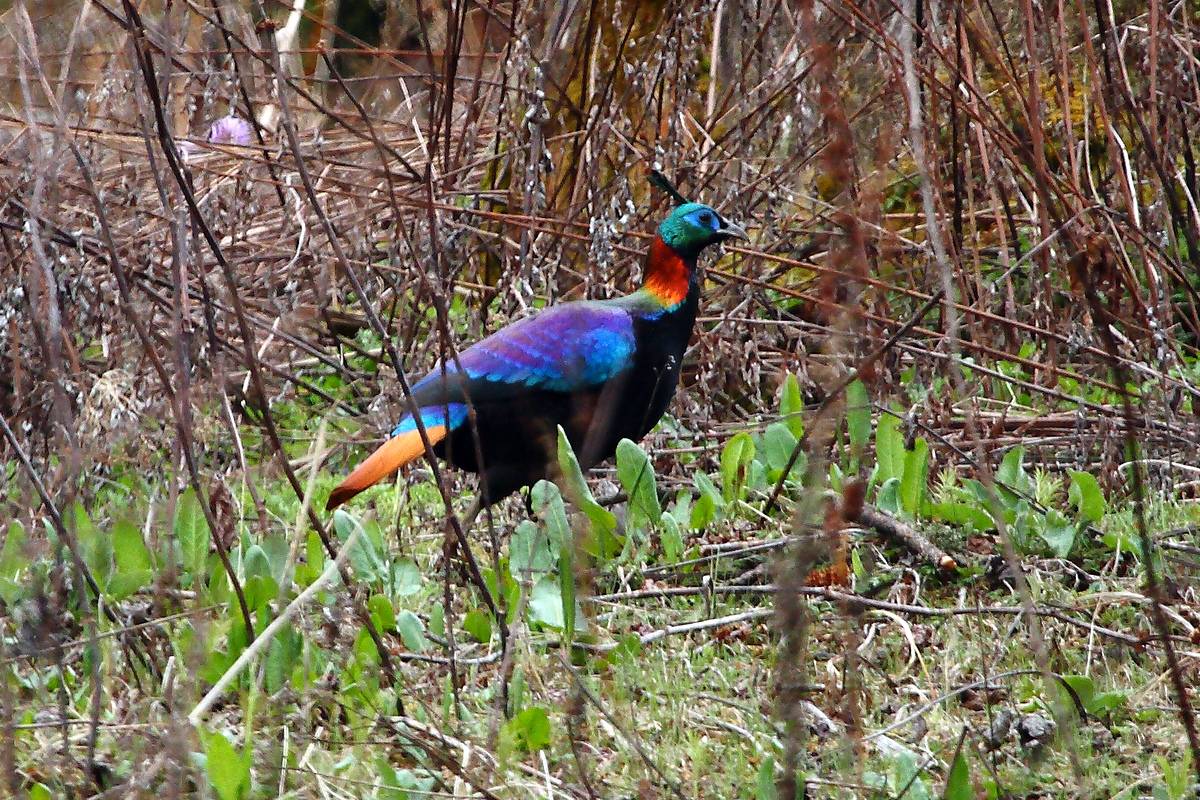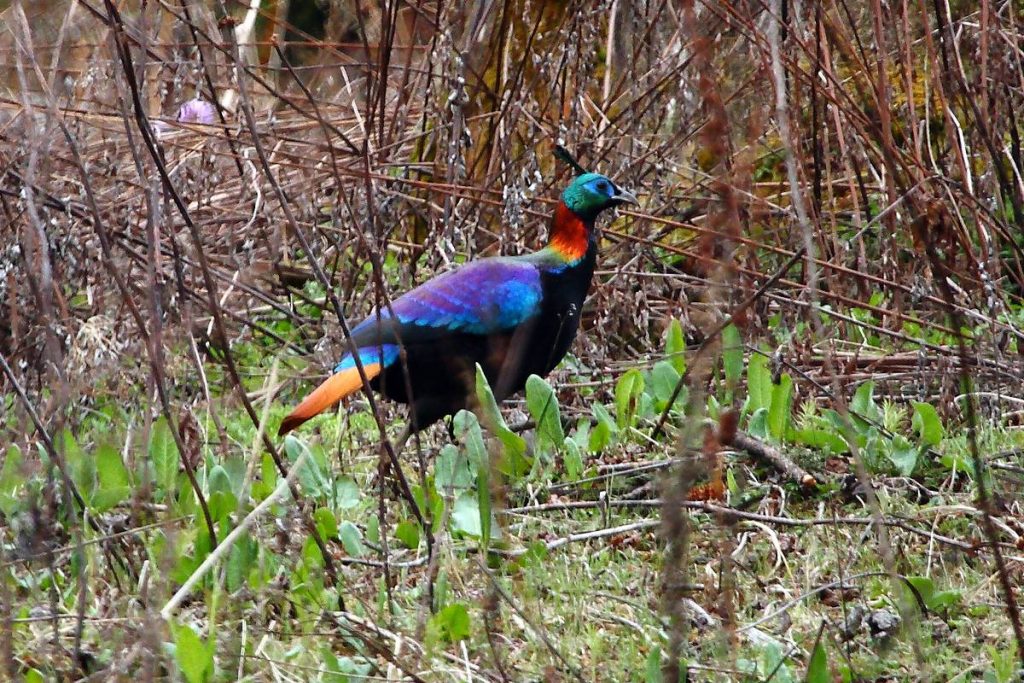 Forrest Rowland
No bird I can think of is more symbolic of its respective region than the enigmatic Grey Hypocolius. Breeding in remote mountains of Iran and its neighbours, this velvety-soft, elegantly structured bird retreats south into the vast expanse of the Rub Al Khali desert of Arabia, and a remote corner of Western Ghats in India, during the Boreal Winter. Over the past decade, a new pattern for the Hypocolius' winter movements has emerged, and I have had the great pleasure of showing 6 Rockjumper clients this spectacular species smack in the middle of the white gleaming sands of the Central Deserts of Oman. Not only was it well-seen, we also had amazing, lengthy views of 2 females and 1 dapper male on both the February and December 2012 Tours!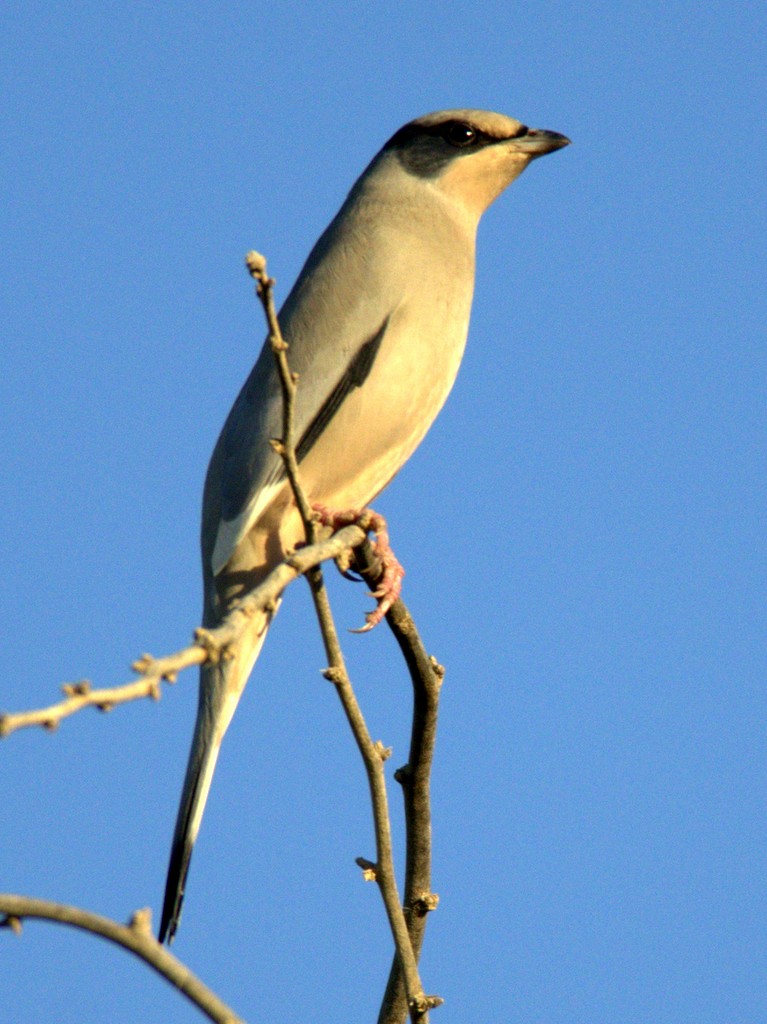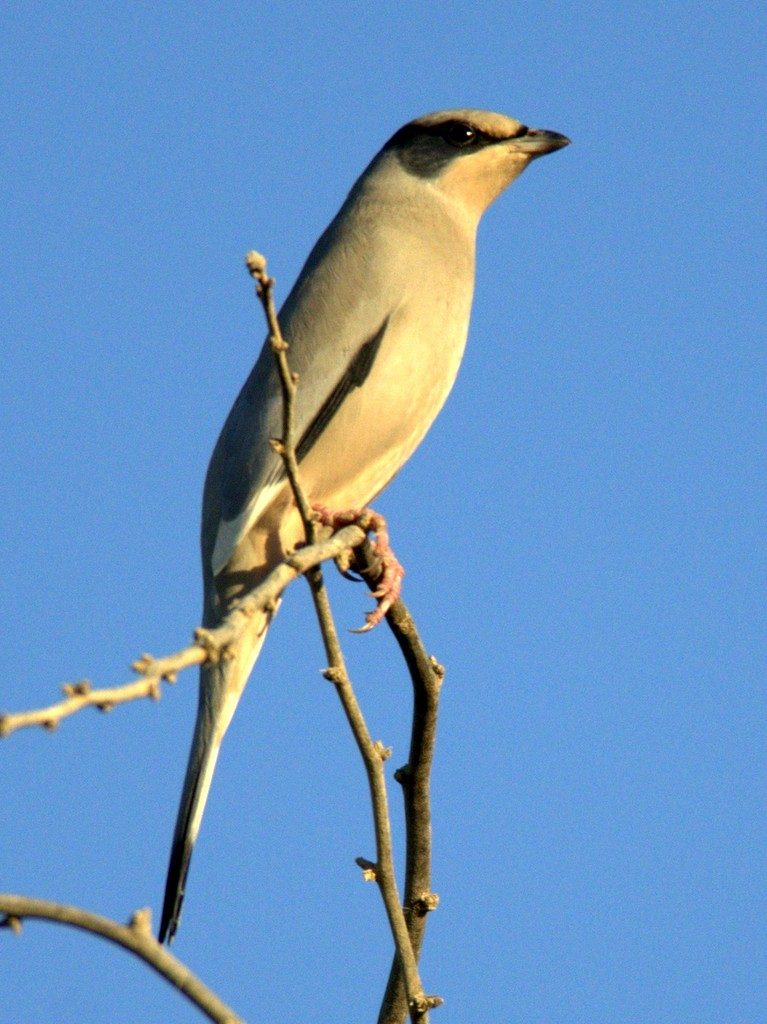 Glen Valentine
Selecting my top bird for 2012 was a challenging one indeed as there were so many wonderful and rare species to choose from, but I did eventually settle on Bornean Bristlehead as my best bird for the year. The Bristlehead, a rather bizarre-looking and very special bird, is placed in its own unique monotypic family, making it an extremely desirable species to see. It's a scarce and elusive endemic of Borneo's lowland rainforests, which are sadly disappearing at an alarming rate and being replaced by oil palm plantations. While birding in the beautiful, lush forests in the Danum Valley we noticed a stocky, black bird feeding at the top of a massive tree at the edge of a small clearing. We very quickly got the telescopes on the bird and there it was, in all its glory, a stunning male Bristlehead! We eventually spotted a second bird, which we confirmed to be a female, and upon closer inspection realized that there were THREE Bristleheads all in the same tree! We walked closer and made our way onto the nearby canopy walkway where we eventually had all three birds at extremely close range, right above our heads and at eye level at times, where their brilliant red-and-orange heads could be seen contrasting against their bold, black bodies. A top class bird indeed and by far the best views I've ever had of this difficult species!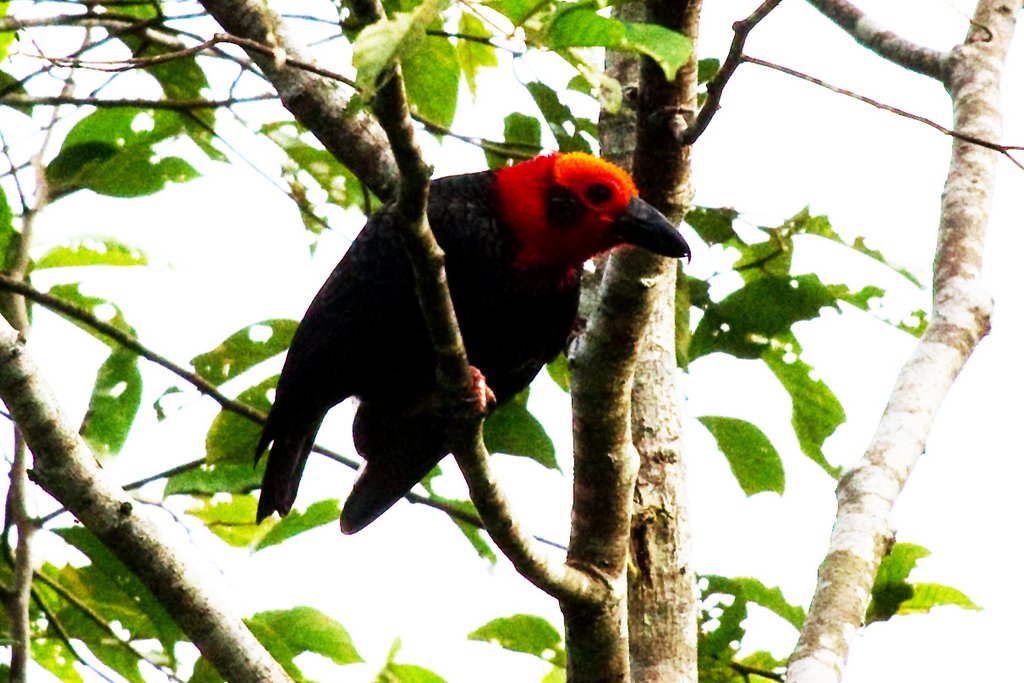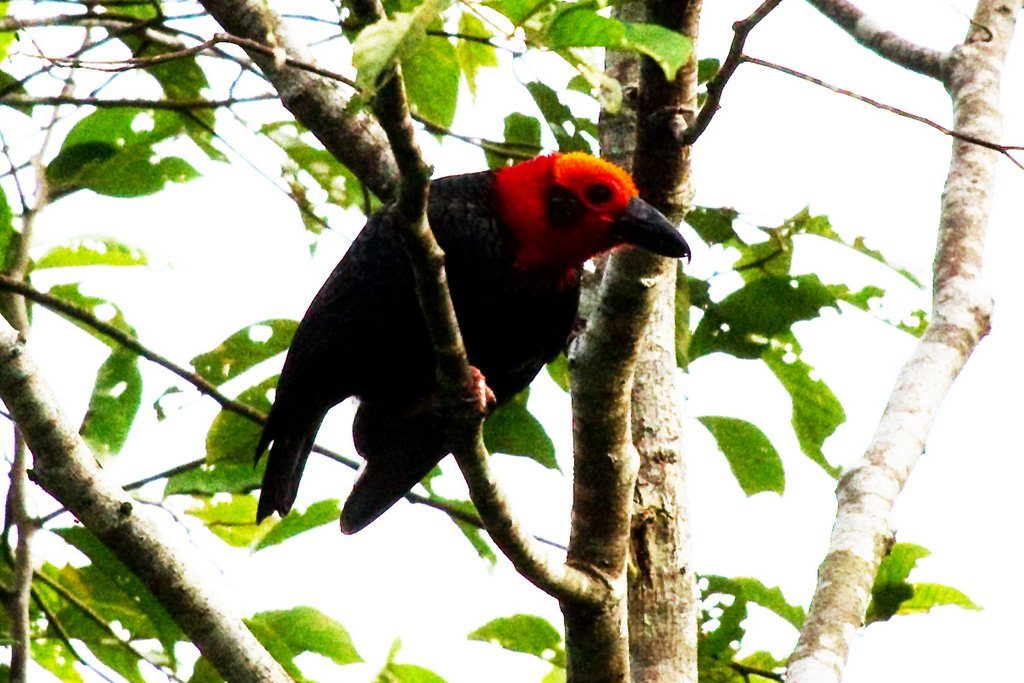 Simon Bellingham
I am off to Rwanda tomorrow and hope that my bird of the year remains around the corner! Living in South Africa, my South African bird list is probably the one I hold in the highest regard and I was therefore extremely excited to add a new bird to this list, albeit a bird that I had seen elsewhere! In October a Black Skimmer was seen at a reserve near Cape Town. It is assumed that the skimmer got caught up in Hurricane Isaac that had been raging off the US coast in August. With no time to lose, I joined two friends from the Rockjumper team and headed out to catch up with this unexpected bird; as it turned out, it was a good thing we saw it that day because the following day the bird was gone!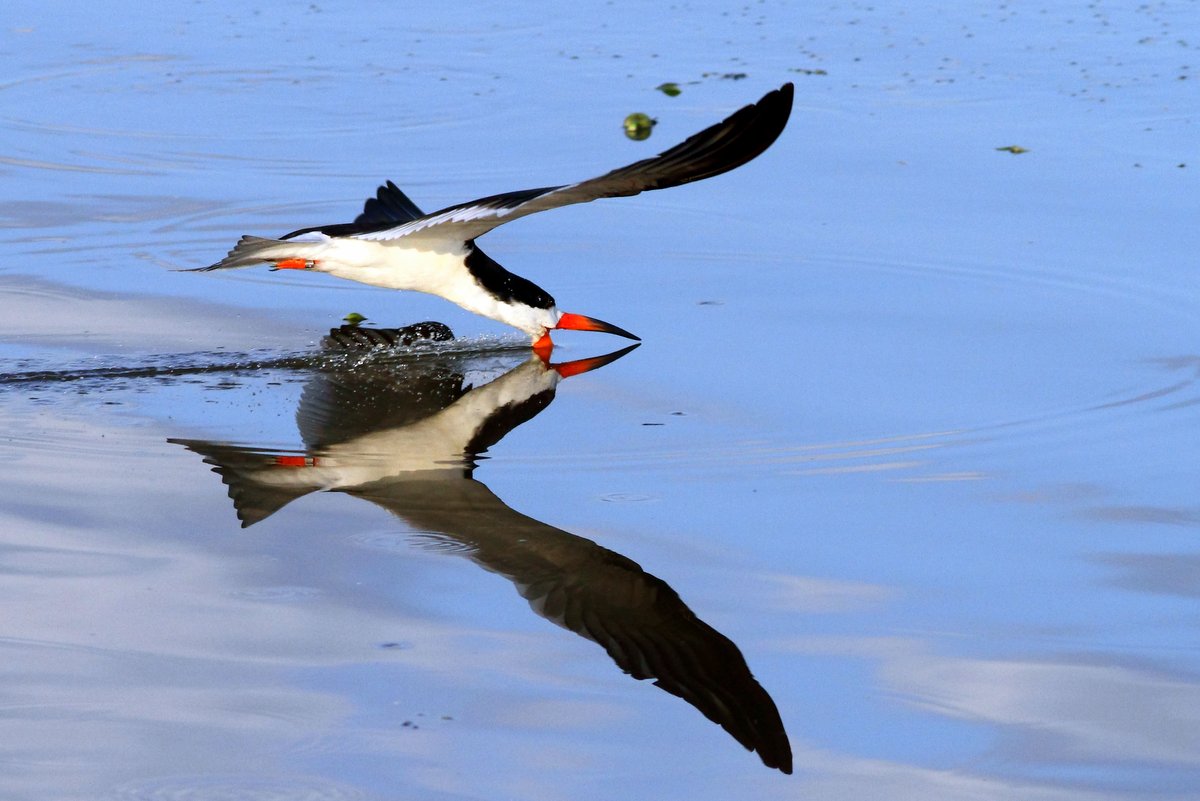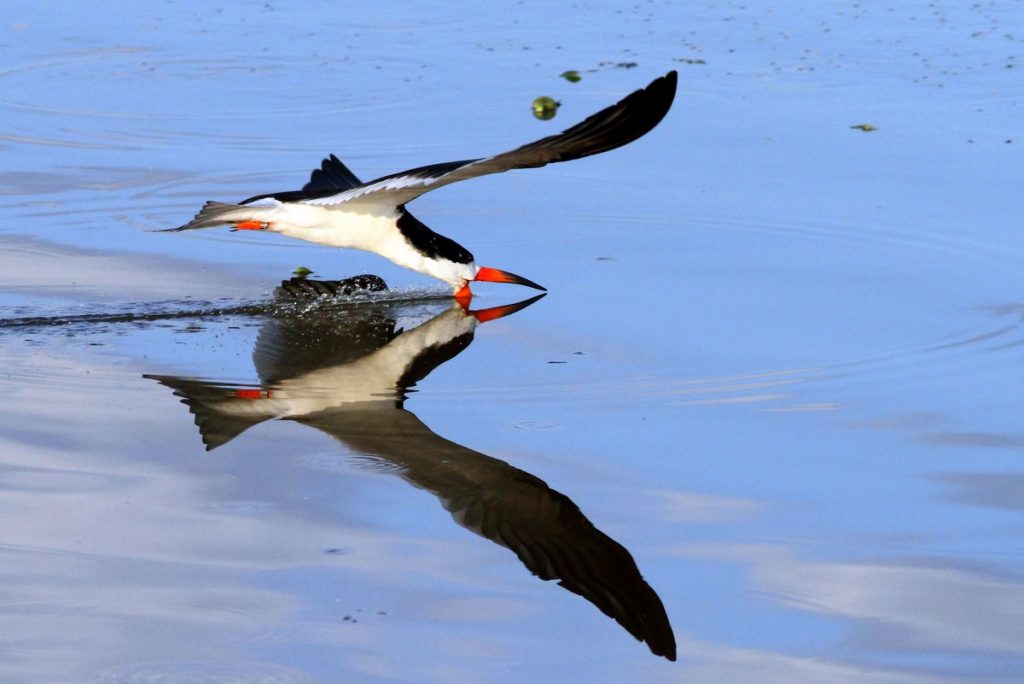 Rich Lindie
After enduring hours of drenching humidity and with only the incessant hum from bees and flies as our substitute for conversation, it seemed we would simply join the many before us who had tried and failed to see this near-mythical bird. Indeed, before the whispered cries of success finally came, I began to wonder if it was just a good myth after all! New Guinea Flightless Rail ousted almost two thousand other species to top my list as bird of 2012 – with ease! Not only did we see this species on two occasions, but some of us were fortunate to spend over seven minutes with it – perhaps a little greedy considering that very few people have ever been offered so much as a mere glimpse!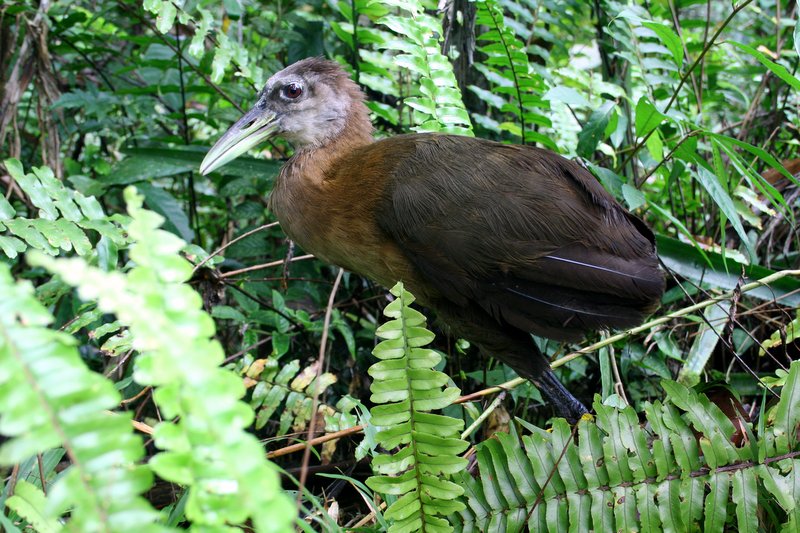 Markus Lilje
I was recently fortunate to be on an amazing private Rockjumper East Africa tour, where one of our many targets was the unique Shoebill, which I had been hoping to see for a long time. Upon arrival in the area where the bird resides, we headed into the swamp in our boat and were very fortunate not only to find the bird quickly, but to also get it in a very open area where we could manoeuvre the boat fairly close to our quarry. We then sat and watched as it moved slowly and, finally, managed to catch a lungfish with its bizarre bill. A very memorable way to see a very memorable bird!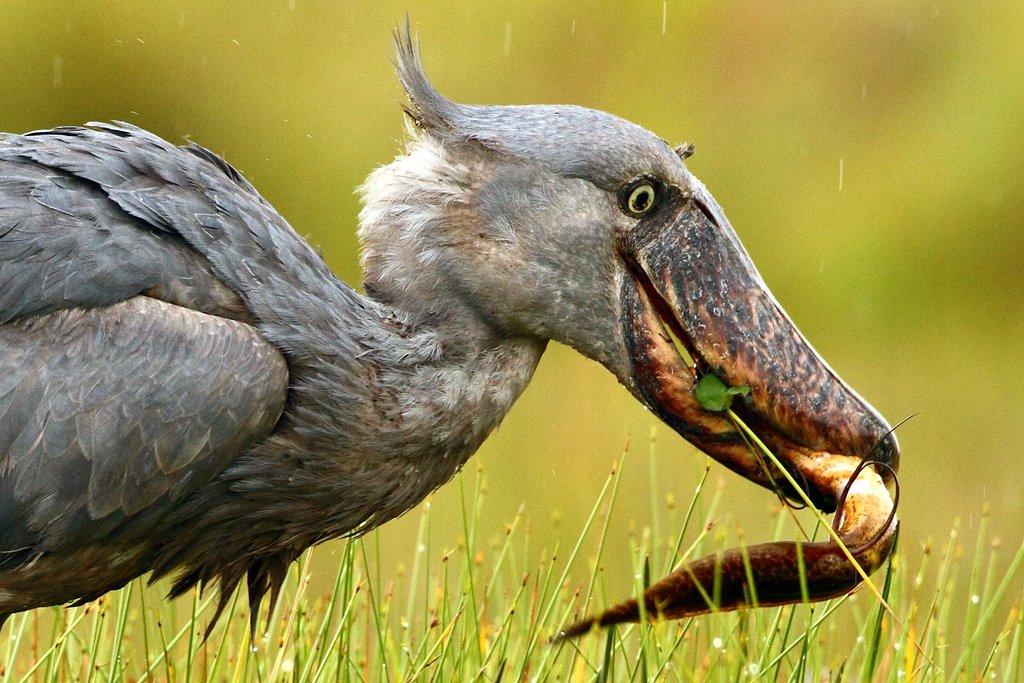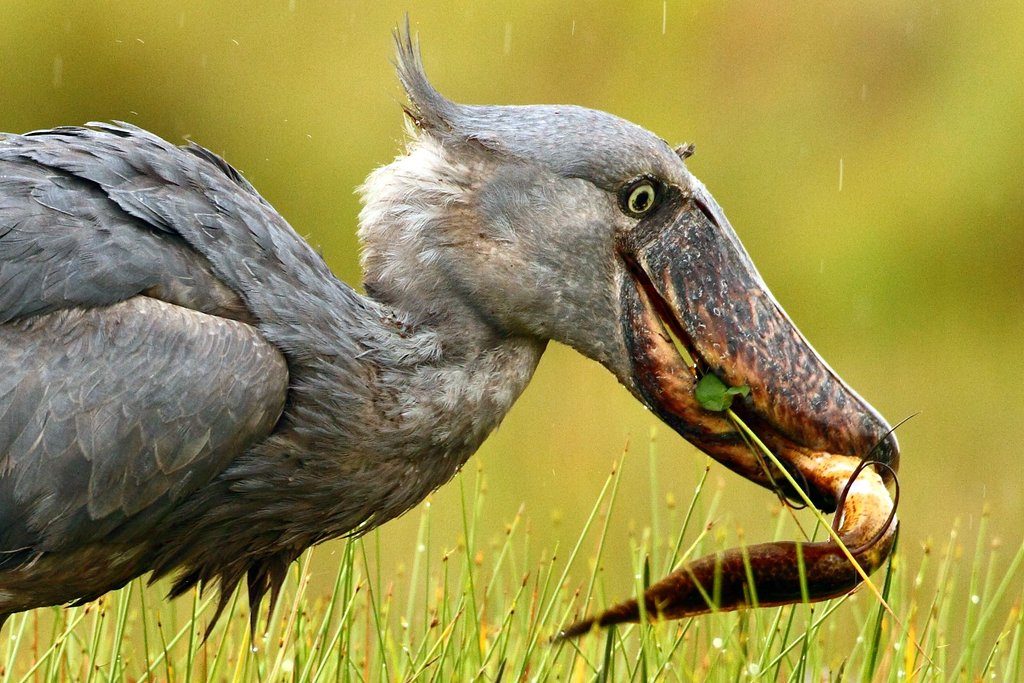 Jan Pienaar
Namibia's only true endemic, the handsome Dune Lark, occurs on vegetated sand dunes, from Walvis Bay southwards to the Koichab River. Having recently seen it in the extremely scenic Sossusvlei area, my bird of 2012 is the aptly named Dune Lark!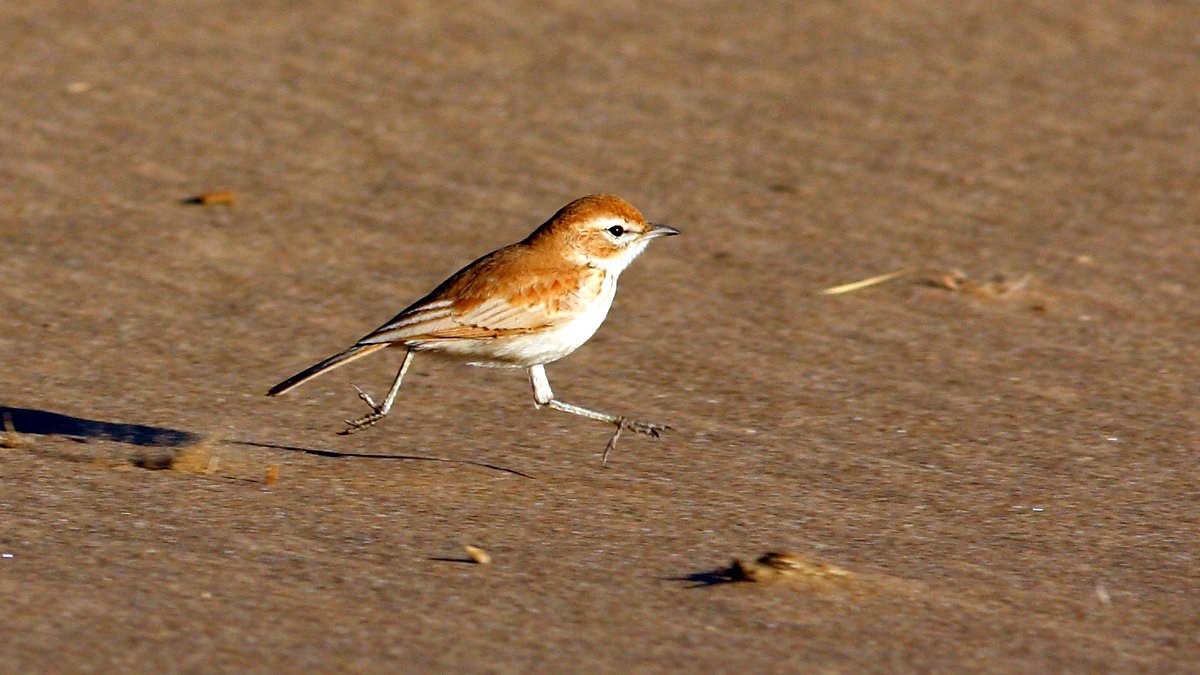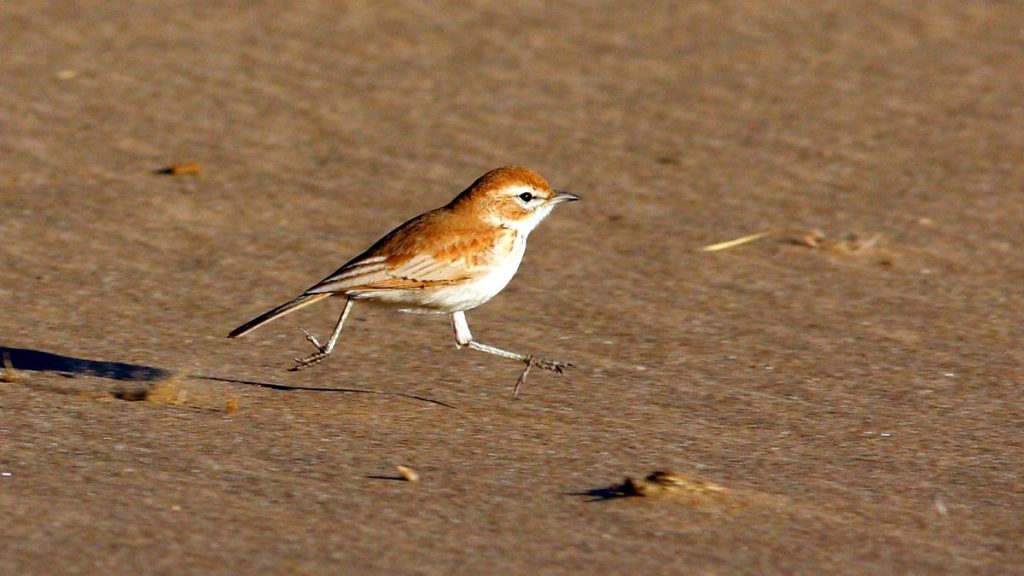 Wayne Jones
With its high degree of endemicity and weird and wonderful creatures, Madagascar is high on many birders' bucket lists. I was lucky to participate in two tours to the 'Red Isle' this year. One of my main targets was the gorgeous Pitta-like Ground Roller, the most colourful member of this endemic family. The other four ground rollers looked interesting enough in the guidebooks, but they just didn't hold the same appeal as the stand-out Pitta-like, least of all the rather drab, odd-looking Short-legged. The first tour completed, I was back in Mantadia National Park with my new guests when we heard a Short-legged Ground Roller quietly hooting from a thickly-forested hillside to our right. With no obvious pathway anywhere, we had to clamber through a brambly thicket to reach the relatively open understorey beyond, followed by a hurried scramble up the steep hillside, pausing each time the bird stopped calling to ensure it did not move off. Breathless glances all around… till eventually… the bird was spotted!! He was sitting on a horizontal branch only a metre off the ground, hooting softly. The lighting was perfect and he seemed unperturbed by our presence. We managed to creep to within six metres of his perch, marvelling at his oversized head and the intricate markings on his throat, cheeks and belly. With effort comes reward! I'd seen the Short-legged Ground Roller a few weeks earlier, but the views had been of a pair high up in the rainforest canopy (they're the most arboreal of the ground rollers.) This individual stuck around for a few minutes more before dropping back into the depths of the forest. The Pitta-like may be the prettiest, but the Short-legged Ground Roller definitely has the most character, and this sighting made it my bird of the year.