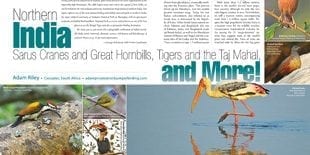 Perhaps the world's richest cultural landscape, India boasts a staggering geographical diversity, from deserts and forests to tropical, palm-lined shores to the snow-capped peaks of the impossibly high Himalayas. This ABA Safari starts and ends in the capital of New Delhi, an excellent hub for the rich avifauna and iconic mammalian mega-fauna of northern India. Our safari explores two of the most famous birding and wildlife national parks in northern India: the royal wildfowl sanctuary of Keoladeo National Park at Bharatpur, with its spectacular wetlands; and fabled Ranthambhore National Park, a reserve widely known as one of the best places to see the Bengal Tiger, and also a spectacular birding destination. We invite you to join us for this unforgettable celebration of India's incredible birds, iconic mammals, dramatic scenery, rich history and kaleidoscope of cultures!
—George Armistead, ABA Events Coordinator
Click here to read this article from the American Birding Association submitted by Adam Riley.