Post by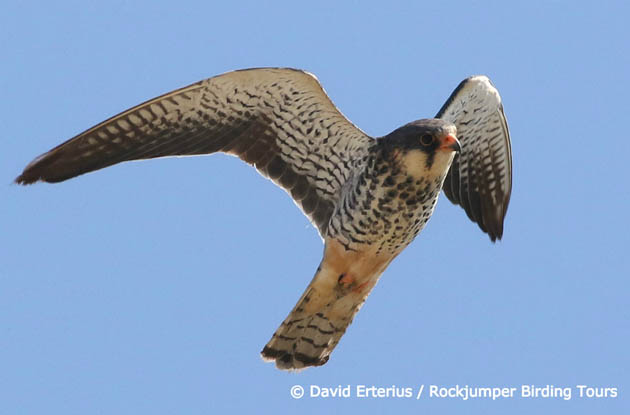 Current technology limits the non-stop flight time of a commercial aircraft to 17½ hours. However, in the avian world, there's a flight that's even longer – one that's just recently started to be monitored by conservationists. Namely, the very impressive long distance migration of Amur Falcons as they fly continuously from remote Northeastern India to the Horn of Africa every year! Researchers have collected very interesting data on these remarkable flights by attaching small, 5g devices, so-called Platform Transmitter Terminals (PTT) on these small raptors. A male Amur Falcon named "Naga", weighing just 179g, flew from Nagaland in India to Somalia in eastern Africa, crossing the entire Indian subcontinent and the Arabian Sea, for five days and 10 hours non-stop and covering a distance of some 5,600km!
Have a look at this map showing some tracked flyways, and see what an astounding achievement this is:
The Amur Falcon (Falco amurensis) is a trans-equatorial, long-distance migrant that moves from its breeding grounds in Mongolia, the south Russian Far East, northeast China and North Korea, all the way to its wintering grounds in southern Africa and back, every year! These small falcons leave their Asian breeding range and fly to parts of remote northeast India (i.e. the state of Nagaland) and Bangladesh, where thousands of birds congregate in certain staging areas before they depart for a long overland flight across the Indian Subcontinent. Subsequently, they undertake the longest regular overwater migration of any bird of prey, crossing over the Indian Ocean between western India and tropical east Africa, a journey of more than 4,000km! Adapted to the strong monsoon tailwinds, the first migrants start to arrive in their southern African winter range by the end of November.
I spent the last few days of September and the first week of October this year on Happy Island, which is situated on the coast of Heibei province in China. For some time now, this small island has been known as a first-rate spot to watch migrant birds on stopover and passage, and good numbers of Amur Falcons are known to pass through every year. I experienced an unusually strong passage of Amur Falcons during my stay on the island, and here's my story about the event in detail:
My first two full birding days on Happy Island saw overcast and windy weather with thick, low clouds and light to moderate rain most of the time. It soon turned out that this weather had caused a major fall of migrant passerines, and loads of warblers, pipits and buntings were virtually everywhere on the island. On 30th September, the wind dropped, it cleared a little and visibility improved. At the same time, the first migrant Amur Falcons started to appear and at the end of the day, I could add 86 birds to the protocol. The next day, the weather had changed quite dramatically, with clear blue skies and a fresh northerly wind and even more falcons showed up. This day, and over the next five days, I noted a total of 1,701 Amur Falcons, which meant that an incredible 1,787 individuals were seen on passage between 30th September and 6th of October! Truly amazing! One of these days stood out as the Big Day when, by just late morning, a total of 1,044 birds had passed over in just a few hours! On the same day, the migration peaked during the last 30 minutes before noon, with an average of around 7 birds per minute and flocks of up to 75 birds! The weather on this day was very hazy, with reduced visibility, and the wind was southwesterly (which meant head-wind), and these two factors probably funnelled the falcons to Happy Island.
Please have look at this selection of shots, taken by myself on these days:
You are welcome to read more about the migration of the Amur Falcons on these links: