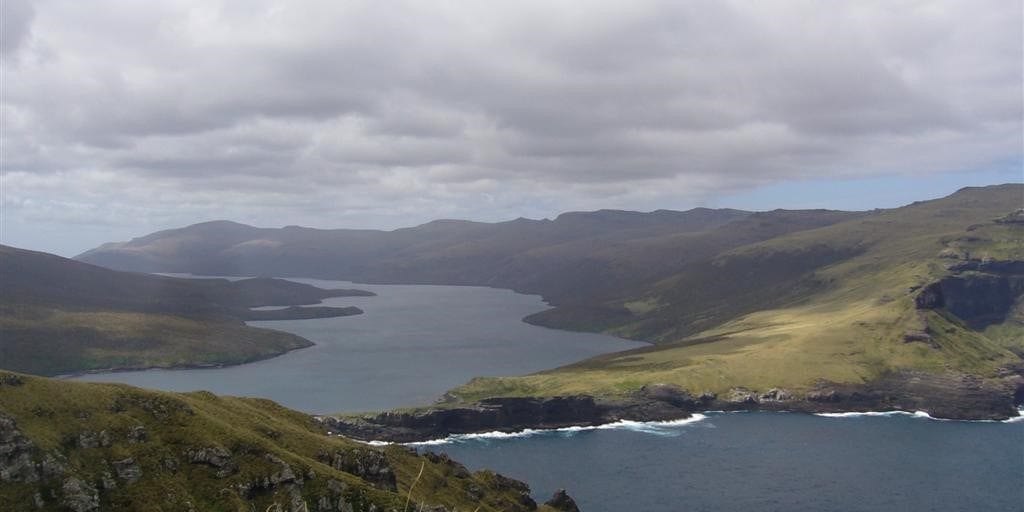 In light of our upcoming New Zealand Subantarctic Island Cruise, we decided to provide 5 great reasons to visit the #ForgottenIslands! Here is Reason #2…
#2: Auckland Island's Carnley Harbour
To the south of the Auckland Island archipelago is a very large, sheltered harbour, abounding in fascinating human history that covers shipwrecks, treasure hunters, coast-watchers and scientific parties. Access to the harbour is through the eastern entrance, guarded on both sides by dramatic cliffs and rugged tussock covered hills. This marvellous scenery owes its existence to the drowned crater of a now extinct volcano!
The harbour separates the main island (Auckland Island) in this archipelago from Adams Island, which lies directly to the south of the harbour. A visit to this historically rich site will yield a plethora of rewarding experiences, including visiting a White-capped Albatross colony, exploring the sites of abandoned coast-watcher's huts, and having a chance to look at some of the shipwrecks in the area. Arguably one of the most famous cases of shipwreck survival in this area was of the Grafton crew who, in the 1860s, survived here for over a year before they were able to make it back to civilisation. Taking time to explore this geological marvel and revel in its illustrious past is sure to yield a lifetime worth of memories.
In addition to the rich history surrounding the area, it can't be overlooked that Adam's Island is the breeding grounds of a number of sea birds leading to the island being recognised as an important birding area. On top of the albatross colony, there is also the opportunity to see the endemic Auckland Island Shag and the Auckland Island Teal among other special birds.
See you in a few days' time for Reason #3!
To find out more about this amazing birding tour, as well as to download the itinerary, click here.