Post by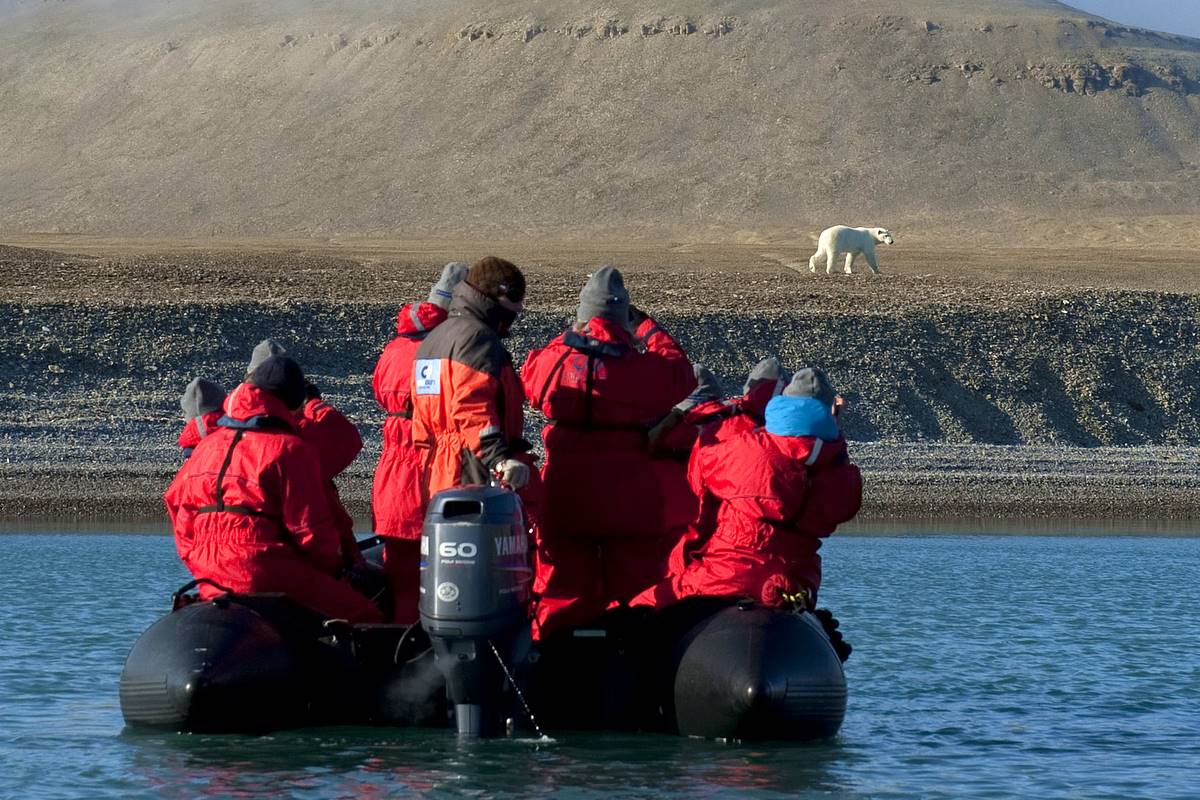 While the history of the 300-year search for the Northwest Passage, which links the Atlantic and Pacific Oceans to the north of the North American continent, is certainly well documented, travellers in search of a polar adventure may be less aware of the astounding variety and volume of wildlife to be enjoyed during the exploration of the Northwest Passage through the Canadian High Arctic.
According to our internationally experienced expedition leader from the 2011 season, it's possible to be truly inundated and overwhelmed by the sheer numbers of marine mammals, Polar Bears and birdlife that appear during such a voyage.
In his own words: "One memorable day at Beechey Island last summer saw three Polar Bears, two white morph adult Gyrfalcons taking turns feeding their chick, three Beluga Whales swimming along the shoreline, a Bearded Seal poking its head up from time to time, hundreds of Harp Seals, thousands of fulmars, kittiwakes, Thick-billed Murres and even a few Black Guillemots! Plus, about a dozen Arctic Hares were easily visible even from the ship's anchorage."
This bombardment of wildlife sightings is by no means an isolated experience as passengers on board the impressive ice-strengthened Akademik Ioffe will discover. Using zodiac inflatable boats with the quietest of motors, travelling upwind of a Polar Bear it is possible to safely get within metres of these beautiful creatures as they stroll along the shoreline. And, with a real chance of seeing pods of Beluga and Bowhead Whales, rafts of Ringed, Harp or Bearded Seals, herds of Walrus, the ghostly Ivory Gull and staggering numbers of other birds, many with chicks in various stages of fledging, it is certain to be a wildlife experience to remember!
Travelling along one of the most legendary shipping routes in the world also provides a fascinating opportunity to follow in the footsteps of a host of courageous polar explorers, including the ill-fated Sir John Franklin and Roald Amundsen, the first to successfully traverse the Northwest Passage.
Today's adventurers will travel in much greater comfort than the remarkable polar explorers who went before them. Facilities on board the Akademik Ioffe include a bar and lounge, a library and media room, plus a theatre-style presentation room, gift-shop and wellness centre with massage, sauna and hot tub, as well as a dining room serving sumptuous meals throughout the voyage.
Additional highlights of the 14-night trip, which travels between Kangerlussuaq in Greenland and Coppermine in Canada, include majestic, steep-sided fjords and massive tabular icebergs, the chance to visit remote Inuit communities and meet traditional Greenlandic kayakers, and the opportunity to participate in hiking, kayaking, photographic and birding expeditions in the company of expert guides.
Rockjumper is pleased to offer a 14-night voyage in conjunction with One Ocean Expeditions through the Northwest Passage this summer. The cruise departs on the 12th August 2012 from Kangerlussuaq, Greenland, sailing west to Coppermine, Canada, where it will conclude on the 26th August. Prices range from US$7,430 per person based on triple share, to US$13,710 for superior cabins. Return transfers between Kangerlussuaq/Kugluktuk airports and the ship, all meals and accommodation and zodiac excursions are included. (Please note, however, that charter flights between Ottawa and Kangerlussuaq and Edmonton and Coppermine are required for passengers joining these voyages.) For further information on this polar adventure of a lifetime, please contact our Rockjumper office.